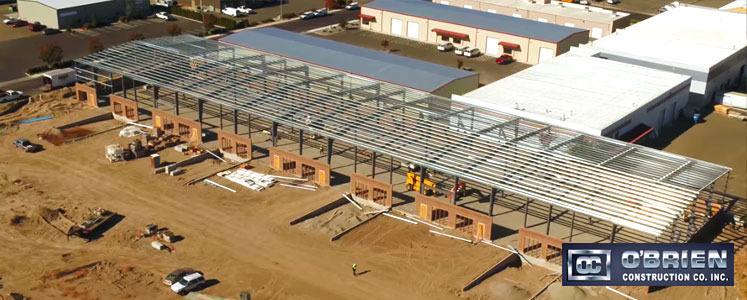 Warehouse project underway in Vista Field Industrial Park
(Originally Published in Tri-Cities Business News, 9/2017)
"Construction is underway on the Vista III warehouse in Kennewick. The first 40,000-square-foot building will be completed by end of year. A second is expected to be finished in March."
A new warehouse is under construction in the Vista Field Industrial Park in Kennewick will look similar to four others nearby. O'Brien Construction plans two warehouses, totaling 80,000-square-feet of space, called Vista III north of Quay Street, around the corner from its other warehouses that have been in place for a decade. Owner Tom O'Brien said each warehouse is worth about $2 million.
The first 40,000-square-foot warehouse in Vista III on West Hood Place is targeted for completion by the end of the year, with an identical second building next door scheduled to be completed by the end of March. O'Brien has two identical buildings in King City as well.
He said Vista III is the third phase of his vision for land originally purchased from the Port of Kennewick. "I gambled and it paid off. So I gambled again and it paid off. I have faith in the Tri-Cities and I have faith in Vista Field," O'Brien said. He bought 15 acres from the port a decade ago, with the expectation of future success. Tenants of his current warehouses mainly deal in distribution and wholesale, but also in retail.
"I believe Vista Field is the hub of the Tri-Cities."
Tom O'Brien, owner of O'Brien Construction
https://occi.com/wp-content/uploads/2018/04/Vista3.jpg
300
747
OCCI
https://occi.com/wp-content/uploads/2018/03/Logo-ObrienConstruction-1.jpg
OCCI
2017-09-27 22:02:55
2018-04-28 00:16:27
Warehouse project underway in Vista Field Industrial Park